About Us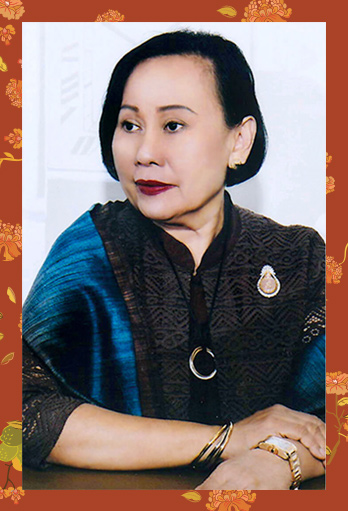 With a passion towards high-quality authentic thai cuisine and expectations for cleanliness, service and decor to enjoy at authentic thai restaurant drove a renowned Thai silk fashion designer, Khanitha Akaranitikul, turned to be a restaurateur to open first and original Baan Khanitha - literally meaning 'Khanitha's Home' on November 4th 1993 in a home on Sukhumvit Soi 23.
The interior design features elegant antique handicrafts, sculptures, paintings and plants to scent warm and welcoming authentic thai appearance. With an instant success led Khanitha to proceed a second stately 'home', 'Baan Khanitha & Gallery' on South Sathorn Road. The second branch of her all-day bakery dessert café in Sukhumvit 53 or Thong Lo area ('The Missing Piece' patisserie and dessert cafe) named 'The Missing Piece (Sathorn)' (the former Moom Gafair by Baan Khanitha) was also located at this second home.
To explore the reputation in authentic thai restaurant and to serve those favor in authentic thai cuisine, Baan Khanitha expanding 'homes' including a colonial-style mansion "Baan Khanitha at Fifty Three" on Sukhumvit Soi 53 adjacent to Baan Khanitha's Moon Glass Bistro & Grill serving European bistro style grills and a patisserie & dessert café named 'The Missing Piece'. The another 'home', a riverside thai restaurant "Baan Khanitha by the River", situated right on the bank of the majestic Chao Phraya River at Asiatique the Riverfront. Baan Khanitha pays particular attention to the very source of their finest ingredients also to plant a 'home' Baan Panalai Organic Farm to grow own organic produces and ingredients to serve the freshest and high quality to every branch of Baan Khanitha. The 98-rai Baan Panalai also includes twenty-three 2-4 rai plots for sales to those who dream of the big house with the panoramic scenery of Khao Yai, Nakhon Ratchasima.
For decades considering one of the best thai restaurant in Bangkok and offering fine authentic thai cuisine crafted with respect to traditional thai recipes through Baan Khanitha's award-winning menu, including Thai signature dishes that Thais, expats and the few travelers return for to uncover the true soul of authentic thai cuisine. Regardless of whichever venues you choose, the combined charm of Thai ambience, exceptional welcome service, and the renowned of authentic thai cuisine make Baan Khanitha an excellent and outstanding best thai restaurant in Bangkok. Having faithfully followed the main three uniques as Baan Khanitha's key to success:
Delicacy of Flavor

Only the very freshest & cleanest high-quality ingredients selected
Traditional Thai spice and herbal scents to assure an authentic thai dining experience
Variety of menu options to satisfy all guests appetite
A well-trained staff to attend all details and any other special requirements to prevent food allergies

Service Supremacy

A truly caring and warm welcoming staff to make you feel relaxed

Charming Ambience

Impressive amongst sophisticated, yet cozy 'Truly Thai Touch' atmosphere